I) Neuroma pain results from swelling of nerves that result from compression or trauma over time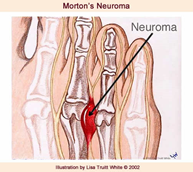 that results in permanent damage to the nerves.
II) According to Dr. Marc Blatstein, Bunion pain is one of the more common conditions treated by
podiatric surgeons. The usual complaint is one of pain when wearing certain shoes, or whenever there was pressure applied to the side of the big toe.
III) The Manicure & Pedicure industry is a six billion-dollar-a-year industry. Dr. Marc Blatstein tells us that current our health care delivery system alone cannot take care of all aspects of our lives, and so the old adage still holds true, "An ounce of prevention is worth a pound of cure".
The Foot & Hand Spa is an example of excellence is found in Richmond's Virginia. Run by Dr. Mitchell Waskin, a Board Certified podiatrist  (804-320-4322) see what excellence looks like. They provide Hospital-Grade Sanitation Standards. for foot, nail, and skincare especially for compromised individuals, such as those impacted by total joint replacement, diabetes, chemotherapy, or arthritic persons.
Dr. Marc Blatstein has now added to his credentials a service that aides attorneys defend those with mental illness as well as other issues through his new website;